Saturday, May 30, 2009
I love new stuff! @ 8:16 PM
There are two things I am really excited about!
1) My new handphone
The previous 02 is so cui already. Really is cui until cannot cui, that is why I decided to change. Anyway, this new phone is arriving this coming monday. I'm so excited!!!
2) My new domain
I bought honeyflash.sg!! Finally not with an extra 'h'. Some days ago I'm still deciding to get honeyflash.sg or honeyflash.com.sg. People commented that .com.sg is like some government site and I personally prefer .sg better too. Someone else bought .com already. Sad.
I've configure all the settings already, right now I just need to wait for the DNS to propragate. That would take from 36hrs to 72 hrs! Ugh! Oh yah, I will be using wordpress. So there is a lot of things that I needa learn. Once I've gotten that, I'm getting twitter! And uh, I need a data plan too!
Some random images I took recently!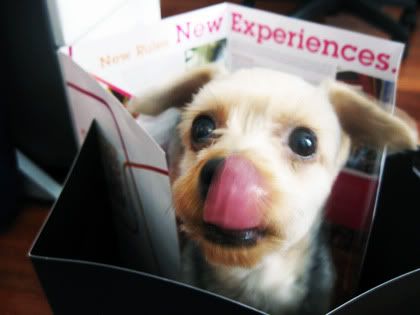 Scruffy in office!



Random images took at the Flyer: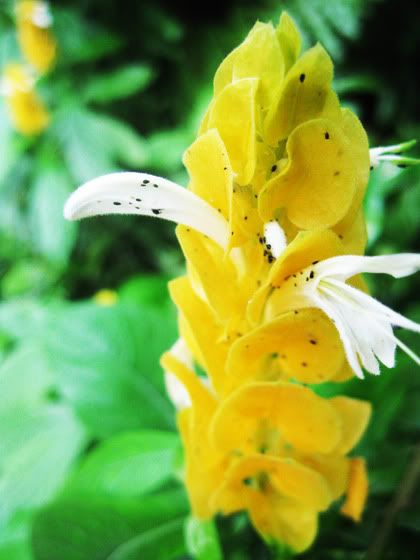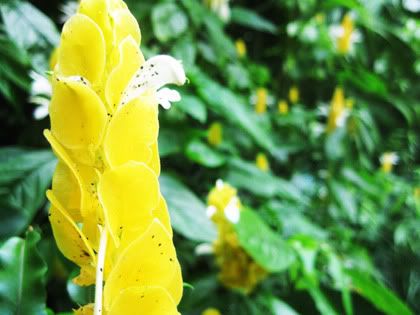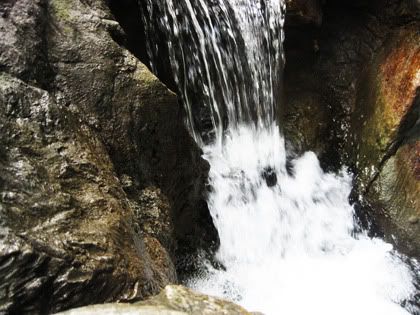 Will upload more images on Flyer the next post.
$BlogItemBody$>
My life is like a stroll on the beach...
as near to the edge as I can go.
Test1:
Older Posts
Test2:
‹Older
Friday, May 29, 2009
Durian don't mix well with beer. @ 5:20 PM
Yesterday our colleague, David, visited us from 'Aussie land'. The Nuffies brought him for lunch at Boon Tong Kee - Balestier, which is very near our workplace. Later in the evening, we brought him to East Coast Park to enjoy some local food. He seems to love Satay a lot and that is also the first time he has actually eaten a Stingray!
And seriously,
in what way is a Durian associated with an angmoh?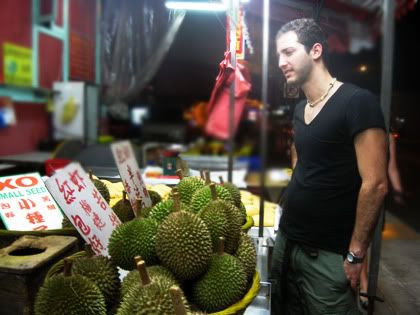 We were at a famous durian stall along Balestier road just opposite my house!


We ordered one bitter-sweet durian for try-out.
You know when we chinese refer to a particular food which we
don't like to eat
, sometimes we would say
"我不会吃" (I don't know how to eat)
. But you know that isn't the literal meaning. It's just 'don't like to eat'. But for David, it is literally - "I don't know how to eat"!
He couldn't decide where to place his fingers at.
Do I use my fingers? He asked. Yes, we answered. Then, he had his first physical touch at the durian flesh, he exclaimed, "
ohh, it's soft!
". Then he couldn't decide how to hold it! But we have HW here to teach him!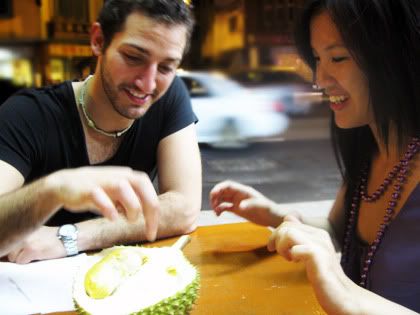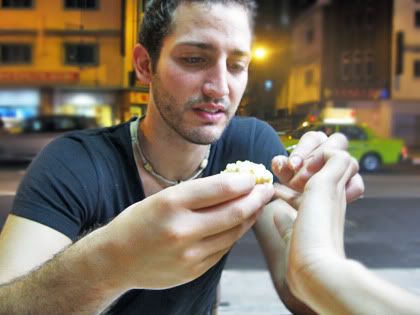 He said it was difficult to describe that kinda feeling. It wasn't detestable, it wasn't fantastic. I guess it is afterall not a caucasian thing. LOL!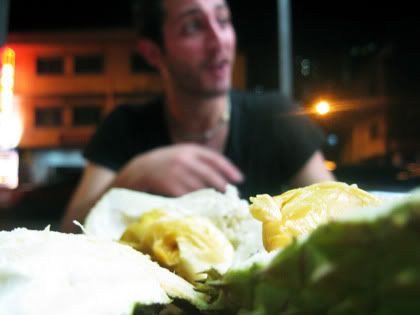 After this, we headed a few blocks away to Quality Hotel's lounge for some beer! You wouldn't wanna know the kind of stuff we were talking about after the liquor took control of our brains!

$BlogItemBody$>
My life is like a stroll on the beach...
as near to the edge as I can go.
Test1:
Older Posts
Test2:
‹Older
Wednesday, May 27, 2009
Couldn't contain my excitment! @ 1:22 AM
10pm - I was tired, I wanna sleeeeeeeeep!

11pm - I knew I just had to finish what I'm doing. Alright doing fine!

1am - Okay, I'm not tired anymore! Engine starts pumping!

HW was telling me yesterday
(recently don't know why all my blog post is HW was telling me this that this that -.-, don't keep telling me things can anot? Whatever HAHA!)
that she likes going to work. Imagine something like,
"I'm going to work now! WOOPIE!" Hmm..
Yeap, that kinda feeling. 
So she is telling me she is becoming a scary workaholic. And for me it is a
workaholic version 2.
I get more indulged into work as the night seeps through after 12 midnight. The clock goes
dong dong dong.
Scary thing is the later it is, the more energy I've got. More chirpy too! *Bats flapping, mouse squeaking* um okayyyyyy.
Time check: 1:43am. And I'm so in to blogging mood. Ever since I started planning my holiday I wanted to much to blog about it. My colleagues knew I was sooo excited about. I'm probably traumatizing them a lot about my trip.
Whoops!
I will go like,
" Look at the corals!

Awwww

", "Omg the waters, so blu

eeeeeeeeeee

!"... and then yadda yadda in my own world...... 
Hahahaha. 
So where/what exactly
so coral and so blue
? Hehe, it is none other than
Tioman Island
!!!! * Plays romantic music* Actually we were deciding whether to go Redang? Langkawi? Or even Phuket? But the scenery of Tioman captivates me so much that I know my choice immediately! Anyway Cherie is going Redang soon too, she can let me know whether is it a great place or not!
Let me bring you through how beautiful, alluring, breathtaking, stunning Tioman is..
I would love to snorkel in these waters!! I've read past travelers' comments. They said if I'm lucky, I could even spot mini sharks and lotsa lotsa colourful fishes! And even turtle too. (Look here: 
http://members.virtualtourist.com/m/p/m/1cda56/) 
I was cracking my brains wondering how am I going to capture those fishes under water. Isn't my precious camera gonna be spoilt. I thought of ways such as puting it in a ziploc bag, suck out the air then hold it under waters. But I'm so scared the current will wash it away :( But then Elaine told me they are selling those cheapo turn and shoot cameras! YAY! No need to worry about that anymore! Maybe if I got addicted to it, I wanna take up diving courses!
To think that they have kayaking over there.. I'm feeling adventurous yet phobatic!!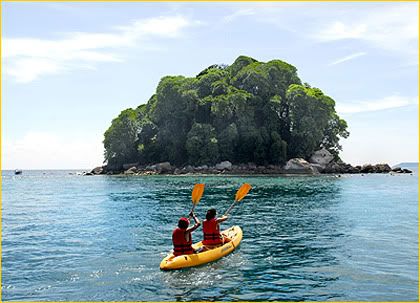 It did cross my mind of what I'm really fearful of. To think everyone had their weakness in some areas. Some afraid of heights? or even afraid of siting rides in theme parks. And I believe open waters is my fatal point. Not sea, not the beach. I can't help to think of what will happen if the flimsy boat capsized! I will bloody panick like no tomorrow even tho I know how to swim!
Geez!
What made me really go WU WAH WHA when I first surf through the web is this very unique exclusive teak made resort they have over there!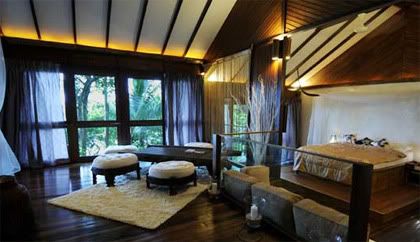 Those are the different type of rooms they have. And the cheapest? A treehouse!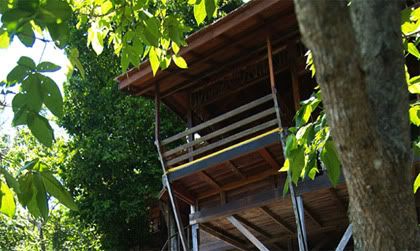 It can be cool in a way. Elaine says naughty monkey will come! Haha! But even their 'cheapest' is already over budget for us!! Hahha, but I promise myself that one day I will make sure I'll have my stay there!

We looked through ALL the accomodation they provide, from the
CMI
one to the
shabby
kind to the
not too bad
and to the
will do
kind! 
This is what I meant by CMI!!!! HAHAHH LMAO
Anyway, We will be staying at Berjaya Resort, getting the standard room:
Kenny once told me that if were to ever get a seaside apartment, we will have a wooden frame installed beside the outing lining of the window, then two lines from the top 2 corners, eventually joining together when they meet. You know, like you are looking at a beautiful landscape in a photoframe but in fact you are looking at the real thing! How beautiful is that!
Look at this! Private romantic dinner by the beach! Goodness!
3D2N Accomodation + transport (2 pax)= SGD $223, super worth it ah! Then for the last day, we will be traveling to KL then back Singapore!

I will be blogging about soon-to-be new phone and this funny online application the next post!
Time check: 3:12am!
**Images taken are either from google images, berjaya resort official website, tioman official website, or Japamala official website!
P/S: I'm changing my domain soon! Keke so excited!
$BlogItemBody$>
My life is like a stroll on the beach...
as near to the edge as I can go.
Test1:
Older Posts
Test2:
‹Older
Saturday, May 23, 2009
Family Day Celebrations - Family Day Out @ 7:34 PM
Alright! This is the first time I'm doing an entry for contest. This got me really stuck cuz' the topic is -
"Family"
.
If you realised, I've never spoken about my family in my past archives. Not because I've none, but just nothing interested to talk about. That's pretty sad. And so that is why organisations like
Family Day Celebrations
are for. To 'help' family like mine to BOND.
When I was a toddler, my dad was quite well-to-do. I guess after we had migrated from Malaysia, my dad struggled for a while and finally his career took off well towards the construction industry. I'd remembered at a point of time, he had even started out his own company called Rover Builders. I would often help out with his workers' salaries, sealed the envelopes or insert cash into them. Got scolded when I made wrong calculations!
I was more attached to my father when I was a kid. He would carry me on his shoulder and called me by my pet name -
Xiao Gek kok
. Haha this may sound awful, and till now I still don't know what it means. I suppose it is some Hakka pronounciation. Now to think back, we were really very close... What's stuck in my mind was that there were times I will massage him till he snoozed into lala land. He will do the same too, until both of us were asleep. If my close friends were reading this section, they must have thought... Are you serious? Cos' they knew how bad my relationship with my father was
now
. We rarely communicate and would often quarrel when we speak to each other. I don't know how to describe, but it is tremendously bad. I would rather not speak to him so that we could quarrel lesser.
When I just got together with Kenny and his family, it made me wonder several times why my family wasn't like his? He told me his situation was worse last time, and that God changed their lives totally.
It was until the economic down turn during 1997 when everything went berserk. My dad lost his company, addicted to a habit which I hated - Gambling, lost his job etc. My mum who used to be a housewife, had to step in the working society which she lost touch with to help support the family. I believe that is when my family situation changed drastically. Everyone had no time for each other and when I was at my growing stage, the surroundings affected me. This had partly contributed to my disconnection towards my family.
My mum had been through the worse and tho I love her, I don't show it the way other daughters did. I wouldn't hug or kiss her. We never had these "actions" and the fact is, I would feel awkward doing so. We never have done, and if I were to do one day, it's just weird.
Anyway, since my mum has quited her job recently, I intend to bring her out this
30th May - Family Day Out to Singapore Flyer
. The entry passes will go to my mum, brother, Kenny, his mum, sis & dad and lastly myself. Looks like I've excluded my dad, needless to ask cos' he wouldn't go. He would love to witness how fast
the horses dash across the field
(if you get what I mean).
Sorry for the wordy post, I'm lazy to scan those old family photos! But just let me post up the most recent photo we took during my cousin's wedding (Jan).
Start planning for your own Family Day Out on 30 May 2009! Visit www.nfc.sg!
$BlogItemBody$>
My life is like a stroll on the beach...
as near to the edge as I can go.
Test1:
Older Posts
Test2:
‹Older
Tuesday, May 19, 2009
Yummy Steak! @ 10:28 PM
Below are the times when we are so free that we began to do random stuff.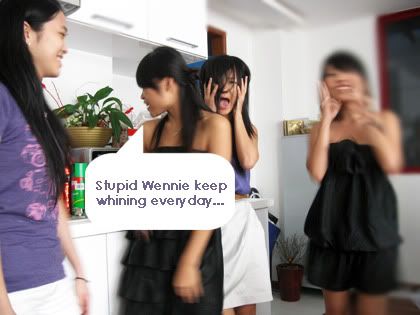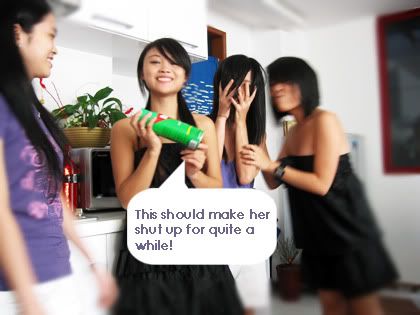 However at times like today, I was so freaking busy with a sudden surge of workloads piling up on me!
But what's good today is that I managed to
cheat
clinch the best deal for lunch
*giggles*
You can leave behind everything after you graduate from your Alma Mater but there is one very important and "valuable" orange item you must bring together with you wherever you go! - That's your
student card
!! Am glad that I didn't surrender my card in exchange for the adult Ezlink. Not only does it serves its purpose for your transportation, it is your best friend during promotional season!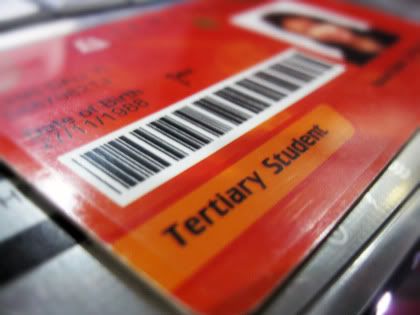 Just like today, I managed to feed myself a set lunch less than 10 dollars (after svc charge) at Jack's Place!!! They are having this promotion for students right now. I think my card will be still valid for use for the next 5 years? I think others will still have the perception that I'm a student. Once I visited the theatre to catch a NC-16 movie and I was asked for my age. I'm over my teens and a lil over the big fat 2! Total shockness. But to think in a long run, I might not look as old when I reached 30s! *shy*


Speaking of western food, I had a fabulouuuuuuuuus meal over at Kenny's last week!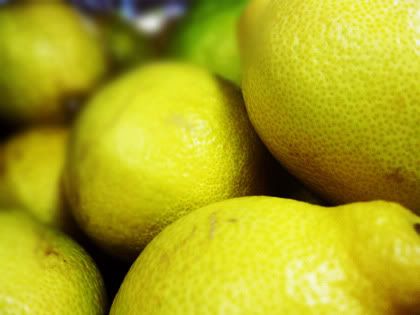 Nice of him to prepare yummy steak for me! The previous time I made steak for him, it was a half success thing :( So now he is showing me how good
his
steak tastes like!
Did some grocery shopping at Sheng Siong
And down to the pan! Sizzle sizzle..
Everything single-handedly done by him! Can 'medium rare' somemore, he too was shocked that he can do it! Hahaha! Alongside with cheessssssy hotdog, black pepper mushroom sauce and superbly mashed potato.
Gotta finish up some work now! Just one last image!
Cherie's neh neh is overflowing! Keke. BYE!
$BlogItemBody$>
My life is like a stroll on the beach...
as near to the edge as I can go.
Test1:
Older Posts
Test2:
‹Older
Monday, May 18, 2009
Everything aNEW! @ 10:57 PM
I've decided I can't live off my life like this! That daily routine has bored the hell outta me - and all these due to my laziness.
ugh!
Months ago, Wennie said we should go do gymnastics. It stayed at the back of my head for a while and disappeared. Until recently Kenny said we should go pick up some hobbies, and I though I don't wanna spend money to skill myself up at the moment. We are having self financial control right now. Pfft. Meanwhile besides slacking off like this, I shall start off with waking early every morning like 7 or 8. Check my emails, have my breakfast and off to Kinta I go!
Oh! By the way, I finally decided to cut my hair! They had been through terrible times :( A worse hair cut ever, then tied down by extensions, a whole lot of them left my scalp after withstanding the extensions (hair got thiner T.T). It took me quite a while for me to decide what am I going to do with it. And finally a new hair cut which I never regretted a single bit at all! To add on, I did a lighter shade of colouring too!
$BlogItemBody$>
My life is like a stroll on the beach...
as near to the edge as I can go.
Test1:
Older Posts
Test2:
‹Older
Daily Thoughts.. @ 12:40 PM
After adding Nuffnang Xchange and publishing the previous post, I felt like blogging again. At least this is positive. Nuffnang Xchange fits my blog so well, due to the white space available. So pretty! 花花!
What's negative is that I had a terrible nightmare last night. It felt as if I was sucked in to it the moment I closed my eyes. And every min I tried opening my eyes, the pressure is present. Not sure of what I'm escaping from. Sorry people, I had monday blues today and the feeling sucks. Sucks to be in denial mode, that is a pretty terrible locked down feeling. I'm so lazyyy doh. Clearing my leave abit too soon. Haha.. Should have saved it for next month! Wee, I'm planning a holiday, not a big one tho but I'm actually looking forward to it! We are still thinking of where to go. But I'm thinking of somewhere cheap and relaxing. After having some recommendations from friends, I wouldn't mind Batam..
I know this is not
that
awesome but sure is good enough at the moment.
P/S: Can't believe I couldn't find The Biggest Loser Season 5 in rapidshare. Am tryin my luck to torrent (hate it!) again. Will spend the rest of my day working and drama-ing.
P/P/S: I'm changing my blogskin again!! Some time.. soon...
$BlogItemBody$>
My life is like a stroll on the beach...
as near to the edge as I can go.
Test1:
Older Posts
Test2:
‹Older